In this issue: Show Time!
• Canada Ocean Racing finishes big
• Friends DO let friends race PHRF
• The Rules Guy discussed non-essential hails
• Keven talks sails
• Update on foiling in Canada
• Sail Canada Awards news

Contributors this issue: Andrew Alberti, Larry Huibers, Dave Dellenbaugh, Roger Renaud, Keven Piper, Canada Ocean Racing, CAN SailGP, Sail Canada

SUBSCRIBE RIGHT NOW!!!

TELL YOUR CREW and EVERYONE ELSE who cares about Canadian sailing! We are a full year old now, but your friends may not know about Sailing in Canada yet. Sailing in Canada is the only publication that exclusively covers the national sailing community. Share this link so they can subscribe to SinC for free: https://kerrwil.dragonforms.com/loading.do?omedasite=SC_digest


Dates are already flowing in for the 2023 Calendar - send us your dates soon.

Head to the Classifieds page for boats, gear and now JOBS is here

Send us your dates, feedback, class and club news, stories here: sailingincanada@kerrwil.com

2023 is looking very strong already

John Morris, Editor
Breaking
Canada Ocean Racing 2nd in RORC Transatlantic Race Today

Just this summer Scott Shawyer was showing off his brand new endeavour, Canada Ocean Racing's refitted IMOCA 70, and outlining his planned adventure to hometown audiences. Now, just months later, he has delivered on the team's promise taking 2nd place line honours for monohulls in the RORC Transatlantic Race from Lanzarote to Grenada, which departed Europe on January 8. This significant accomplishment is just a step on the way to competing in what is considered the toughest undertaking in sailing, the singlehanded Vendée Globe around the world race in 2028. READ MORE

CANSailGP
Up and Down at Singapore GP

The inaugural Singapore Sail Grand Prix took place this past weekend in challenging, light air conditions which put all nine teams to the test. Volatile wind conditions meant that the F50s were configured with the largest 29m wings and had only four crew onboard. The Canadians managed to find a couple of passing lanes in both of Saturday's races and sailed consistently to finish with two fourths. Commenting on day one, Robertson said: "​​It's not easy out there but everyone is sailing in the same conditions, so you've just got to beat them in what you get." READ MORE

The Rules Guy
Hails That Are Not Required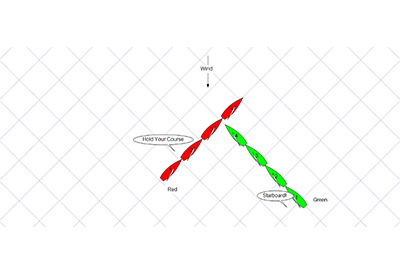 During my summer judging, I have heard some strange things about the hails people expect to hear. Last issue I discussed the three hails, "room to tack", "you tack" and "protest" that are required in the Racing Rules of Sailing. This issue I will continue with other hails that are not required. In the first diagram, we see a very common situation. Green is on starboard tack sailing close-hauled. Red is on port tack also sailing close-hauled. The skipper of Green, hails "Starboard". This means several things. READ MORE

News
Sail Canada 2023 Annual Awards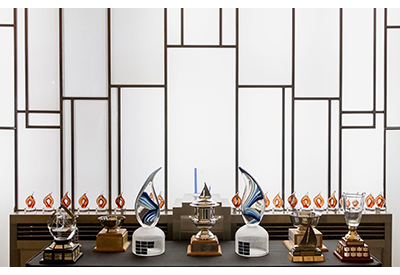 Starting now, Sail Canada is looking to receive nominations from the Canadian Sailing community to recognize outstanding sailors, athletes, coaches, instructors, officials, volunteers and events through one of Sail Canada's 12 Annual Award categories, based on activities and performances that occurred from January 1 to December 31, 2022. For the first time, and following the sharing of the Sail Canada Inclusion, Diversity and Equity Action Plan, all Sail Canada awards will be inclusive to all applicants including the newly named Gallagher Skippers' Plan Athletes/Teams of the Year. READ MORE
Cliquez ici pour le français
Gear
Harken Fly Blocks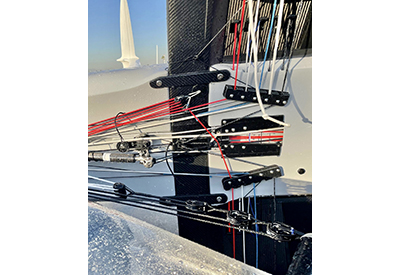 Harken soft-attach Fly blocks are designed to provide strength without mass, providing sailors with big power in a low-aero package. Designed specifically for high-tech line, these efficient blocks have an incredible working load for their small size. Fly blocks are perfect for use on foiling dinghies and sportboats and for vang cascades and backstay systems on Grand-Prix racers. They're small & light but incredibly strong. They're built with titanium sheaves wherever optimal - with stainless races and bearings where the job demands and composite components wherever weight can come out. READ MORE

The Big Picture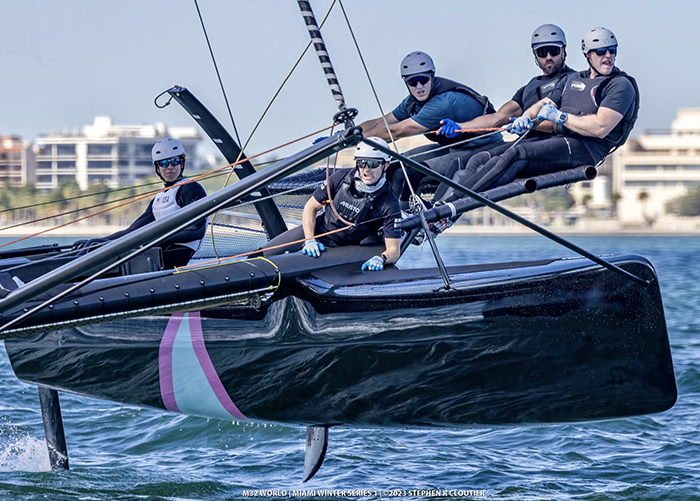 Keven Talks Sails
Preparing for Bad Weather – Part 2

Most sailors just don't have practice sailing in really windy conditions. Club racers don't go out if it is more than 25 knots (nor will the race committee). When doing a long-distance cruise or race, you don't have much option if a squall runs at you. You must be able to shorten sail quickly by reefing or at least dropping the mainsail safely, and getting a heavy weather jib up and flying. A furling system can roller reef a sail, which isn't as ideal as a dedicated sail, but it is better by far than flogging a too large jib. READ MORE

Opinion
Does Club Racing Have a Future?

Part A – Club, Culture and Education are key! By definition, a club is an association or organization dedicated to a particular interest or activity be it a baseball club, a rowing club, or a sailing club. Members, particularly competitive ones, are the beating heart of the club. It is the membership who decides the direction and culture of a club. We are the Club! A prominent member of the Lake St Clair Sailing Community stated: - "The future of racing depends on us, all of us." He is so right! READ MORE

People
Marc's New Model

In the winter, our contributor Marc Robic goes indoors but his love of sailboats continues undiminished. We published a two part story on the models he builds and gives away in 2022 – Part 1 and Part 2. Now Marc has created another miniature beauty, is a Mirage 25, called Serenity Now, owned by a fellow Ile-Perrot Yacht Club member, David Pelletier. "Notice the name on the stern is exactly what the real boat has, like the Seinfeld TV show logo," Marc points out. With his models, charters and writing, one way or another Marc keeps sailing year-round! READ MORE

PHRF POV
Friends Let Friends Race PHRF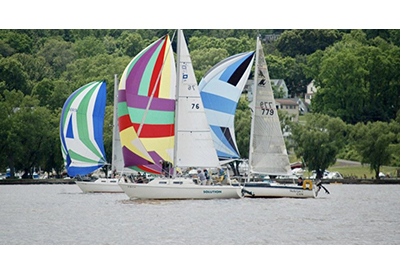 Welcome to 2023. Hopefully your New Year's Resolution includes to race your sailboat this season. The good news – PHRF LO Racing is on the upswing. Shifting north of the Caribbean (see Larry's analysis of the Caribbean circuit here: Part 1, Part 2 and Part 3), I'll focus on the handicap racing most of us do. If you are in or on waters that feed Lake Ontario PHRF LO is your home for quality handicapping. Being among the largest issuer of certificates in North America, PHRF LO has a very large data base. READ MORE

Speed & Smarts
MORE Starting Strategy & Tactics – Part 3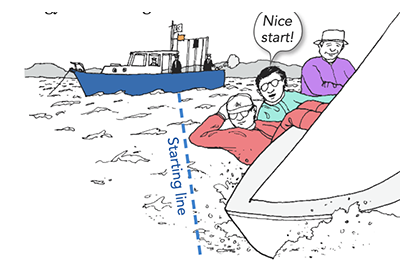 Control your destiny. A good start is all about getting what you want and not letting other boats stand in your way. In the ideal world you want to start in the position you choose on the line, carve out a certain amount of space around you, and then come off the line with clear air and speed. Getting to that point requires a series of small maneuvers during the last couple of minutes before the start. Perhaps the most critical thing as you approach the start is keeping your options open. READ MORE

Performance
We CAN Foil – Set to Fly in 2023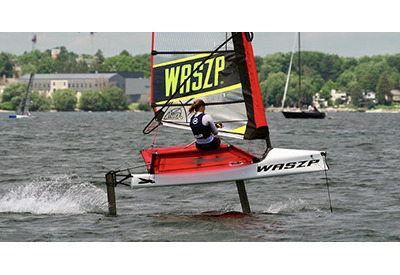 Powered by RBR & Canada SailGP Team. Over 500 youth across the country have now had the opportunity to try foiling as part of the Canada SailGP Team's inaugural We CAN Foil programme which culminated in a team training camp and foiling demos during CANFoil week last October in Halifax. The 2023 We CAN Foil programme is about to take flight and will include demo days, Foiling For Life initiatives and a pathway programme for athletes interested in competing on a national and international level. READ MORE

This email was sent to elissacampbell@kerrwil.com.