In this issue – Competition from across the country!!
• English Bay Scramble
• CBC covers Nova Scotia regatta
• J105W attracts new players
• Chester Race Week wrap
• What to do at the windward mark
• Sarah joins CAN SailGP
• Savannah Taylor tops the fleet at 20!
…much more

Contributors this issue: Jody Dyer, Dave Dellenbaugh, Peter Grimm, Suzanne Rent, Roger Renaud, Sail Canada.

Coming next issue: Kevin Brown's hot summer, the Rules Guy

TELL YOUR CREW and EVERYONE ELSE – since we are the new kids, your friends may not know about Sailing in Canada yet. Share this link so they can subscribe to SinC for free: https://kerrwil.dragonforms.com/loading.do?omedasite=SC_digest

Head here for the 2022 Calendar - a one-stop guide to a busy summer
Head to the Classifieds page for boats, gear and now JOBS is here

Send us your dates, feedback, class and club news, stories here: sailingincanada@kerrwil.com

News
Wrapping Up Chester Race Week With "Champagne" Winds!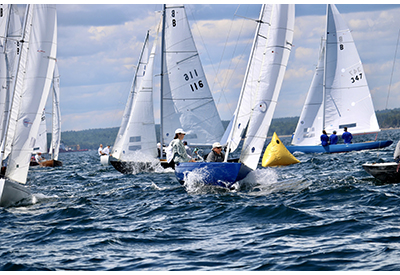 Helly Hansen Chester Race Week wrapped up on Sunday, August 13 with a final day of spectacular racing. Day 4 was likely the best day for weather, especially after Day 3 when a lick of wind wasn't to be found and the races were cancelled. Daniel Conrod is the principal race officer for Chester Race Week and was also in charge of the distance racecourse. "We didn't get our usual forecast of sea breeze until the last day. A couple days of light wind." READ MORE

News
Outstanding J105 Ontario Women's Championship in 2022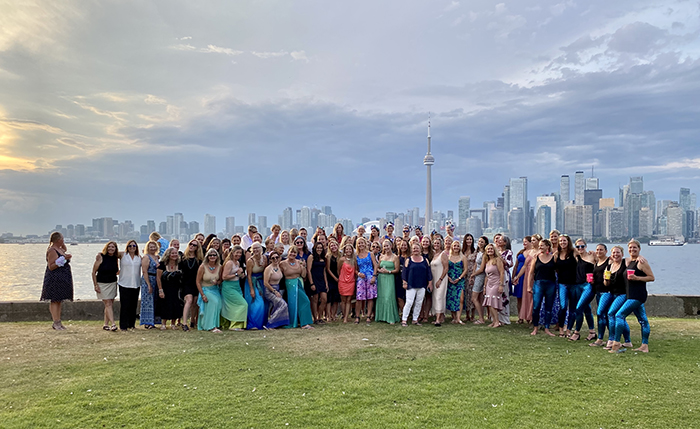 Eighty women, 11 boats, and one day of highly competitive racing: August 20, the Royal Canadian Yacht Club in Toronto held the second annual J105 Ontario Women's Championship. Hey Jude, with skipper Karen McRae won the championship, Jen Provan Paterson on Mandate took second, and Chantal Hearst on Kernel (with owner Jan Heisey) finished third. The race committee, ably led by Anne Sanderson, and including judge Dale King, squeezed four races into one light wind, but picture-perfect day. READ MORE

Canada Games
Three Gold Medals for Team BC

Team British Columbia won three of the five events at the 2022 Canada Games held in the Niagara Region earlier in August. The teams of Colin Gilley and Matt Young as well as of Grace Poole and Jessica Hirshbold won the male and female 29er, while Victoria Coady finished first in the ILCA 6 competition. In ILCA 7, James Fair from Alberta won the gold medal, while Siobhan MacDonald from Ontario finished fird in the 2.4mR event. READ MORE

People
Savannah Taylor Wins at Chester

Last week at Chester Race Week, 20-year-old Savannah Taylor at the helm of Hard Eight won the PHRF Distance 1 Division with two bullets in four races. It's no easy road to be a 20-year-old female skipper but that Taylor has always had tremendous support from her family, father Lawrence Taylor, mother Anne Swim, Grandfather Ken Taylor and Grandmother Sherri Taylor (Sherri just recently passed away unexpectedly and has been a tremendous loss to everyone including our Yacht club family). READ MORE

News
Sarah Douglas Joins SailGP Team

High profile Olympian Sarah Douglas joined SailGP in Denmark last week as a strategist, in line with @sailgp's Women Pathway Program. Sarah is a confirmed member of the team and will continue with her intense training for Paris, same as Antonia and Georgia Lewin-Lafrance. "Today was my first day on an F50, it was just really cool and a very surreal experience. It's an honor to be part of #sailgpCAN, it's great to be part of the league and it's a really exciting thing for the country." READ MORE

Speed & Smarts
Approaching the Windward Mark

The windward mark is the first point where all the boats come back together after the start. It's usually crowded and contentious and can have a significant impact on the outcome of the race. The tricky part is how you approach the mark – the key tactics here are to play by the rules, keep your wind clear and avoid over-standing the mark by too much. This is easy to do when you're near the front (or back) of the fleet. READ MORE

Shark NAs
42 Years Later, A Legend is Being Born!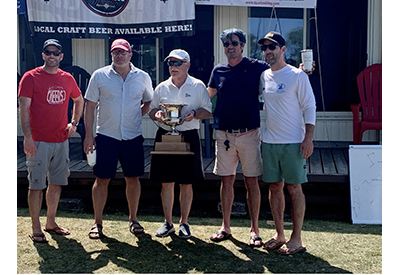 The Shark Class held their North American Championships August 26th – 28th in SW Ontario at the South Port Sailing Club in St. Clair Beach. Shark superstar Greg Cockburn added this North American Championships to his long list of significant Regatta wins. He's a 4-time World Champion, a 2-time North American Champion, and a Canadian Champion (June/2022). Greg sailed a loaner boat at this regatta because his boat, Eager for More, is being shipped to Austria to compete in the upcoming World Championships in September. READ MORE

Racing
2022 English Bay Scramble Report

Tiddly Cove's annual English Bay Scramble, the most interesting and popular sailboat race in Vancouver, and perhaps in the world due to its pure, unadulterated racing conundrums! Which way to go? Skippers and crews competing in the Scramble will be the most highly regarded sailors we know, and perhaps that one could meet, ever. The English Bay Scramble is a unique race where tacticians have free rein in how the marks are rounded, even which way to cross the start line. READ MORE
News
CBC Sports Covering 2022 49er, 49erFX and Nacra 17 World Championships, in St. Margaret's Bay

The competitions will be held in St. Margaret's Bay, Nova Scotia from August 31 to September 5 and the top Olympic sailors in the world in the 49er (men's pair) and 49erFX (women's pair) Olympic classes as well as in Nacra 17 (mixed pairs) will get a chance to shine before a national audience. The 2022 49er, 49erFX and Nacra 17 World Championships will be live streamed on CBC Sports digital platforms starting September 2. READ MORE
Cliquez ici pour le français
Class News
ILCA Competitions in Kingston

Canadian sailors in ILCA had some competitions in August, including Sail Canada 2022 ILCA 6 & 7 Senior Championships held August 13-16 in Kingston. On the women's side, Julia Buesselberg from Germany won gold, followed by Rory Walsh and Coralie Vittecoq while, on the men's side, Gord Welsh took the gold medal, Rafael Hebert, silver, and Scott Gittens, bronze. READ MORE

News
Crew positions available heading to the Caribbean!

There are lots of reasons to become a member of the Salty Dawg Sailing Association but the best reason right now is that we are expecting a record number of boats in our rally to the Caribbean this fall and everyone is looking for crew. With more than 100 boats heading south with the rally this year, every day our crew forum (available to members only) has new postings for crew positions READ MORE

This email was sent to elissacampbell@kerrwil.com.