In this issue – How many more months?
• Which Caribbean regatta is right for you?
• Sarah scores in ILCA 6 Euros
• Vancouver women off to BVI SR
• Sag your headstay
• Sail GP and Sail Canada team up
• Tingley joins Hall of Fame

Contributors this issue: Larry Huiber, Dave Dellenbaugh, Kelly Wharton, Marjolyn van der Hart, Sail Canada

TELL YOUR CREW and EVERYONE ELSE who cares about Canadian sailing! We are new on the scene, your friends may not know about Sailing in Canada yet. Sailing in Canada is the only publication that exclusively covers the national sailing community. Share this link so they can subscribe to SinC for free: https://kerrwil.dragonforms.com/loading.do?omedasite=SC_digest


Head here for the 2022 Calendar
Head to the Classifieds page for boats, gear and now JOBS is here

Send us your dates, feedback, class and club news, stories here: sailingincanada@kerrwil.com

John Morris, Editor
News
Sarah Douglas Finishes 6th Overall at the 2022 ILCA 6 Sailing European Championship

Canadian sailor Sarah Douglas from Toronto took the 6th spot overall at the 2022 ILCA 6 European Championship which ended last Monday in Hyères, France. Through the first 10 races, Sarah Douglas finished five times in the top five and sat in the first or second place for several days. But a tough day on Sunday left her in sixth position, which she was able to protect on the last day of racing on Monday, which involved a high-level field of athletes considering that 10 of the top 14 finishers from the Tokyo 2020 Olympic Games were in action. READ MORE
Cliquez ici pour le français
People
Paul Tingley Into the NS Sport Hall of Fame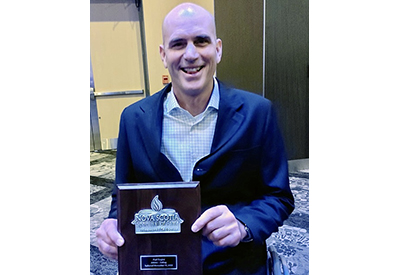 Congratulations to two-time medalist in sailing at the Paralympic Games Paul Tingley who has been inducted into the Nova Scotia Sport Hall of Fame Saturday. Check out the ceremony as well as his interview here. READ MORE

News
Sail Canada and Canada SailGP Team Align for the Future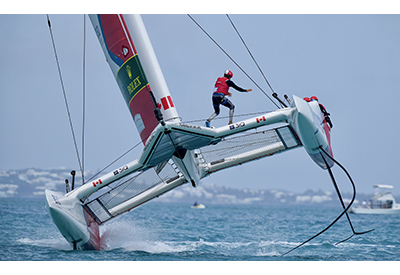 Last week, Sail Canada and Canada SailGP Team announced an official partnership between the two organizations to further promote and develop the sport nationwide, including developing foiling talent across the country. Since the Canada SailGP Team debuted in Season 3 of SailGP in May 2022, more than 500 youth across the country have had the opportunity to take part in the team's demo days and learn to foil training camps. As the Paris 2024 Olympics approach, and include the iQFoil, there will be more opportunities for youth to try foiling. READ MORE
Cliquez ici pour le français
Racing
Which Caribbean Regatta is for You? The Choices are Hard – Part 1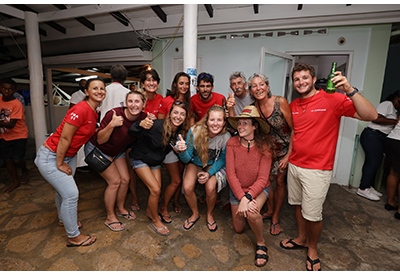 Like the Bits and Bites commercial, every handful is different. Racing the Caribbean Sailing Association winter series is like that. Based on positive feedback from the Hitchhikers Guide, I thought I'd highlight the events based on my experience. Starting by date of event here is my take: Grenada Race Week; January 29th through Feb 3. This is an undervalued event and high on my list. I really like the island, its old school Caribbean, not over-developed and dated in a very positive way. READ MORE

News
CBC Podcast Summary for Girls in Sailing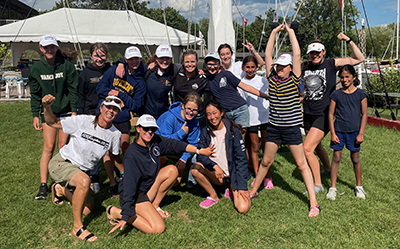 Recently, the CBC podcast Sports Talk with John Hancock, interviewed Olympian hopeful Clara Gravely and Vice Commodore Marjolyn van der Hart, about the inaugural Girl's Sailing Camp held this past summer at Ashbridge's Bay Yacht Club in Toronto. This camp, funded by the Ontario Trillium Foundation, is an initiative to address the high attrition of girls in sailing. Recognizing that there are not enough girls and young women participating in the sport is the first step to creating an inclusive space that is equitable and supportive. READ MORE

News
McRoberts/Lutes 6th at RS Venture Connect World Championship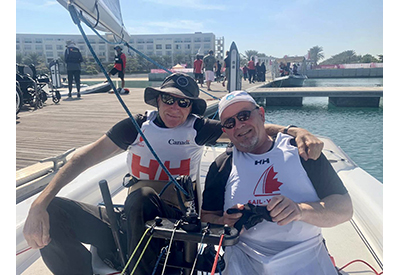 2022 Canadian Sailing Team member John McRoberts, (Victoria – RvicYC) and Scott Lutes took the 4th place overall on 26 sailors in the para fleet of the RS Venture Connect World Championships held last week in Oman. "The Finale day was held with the top 6 boats in the Para division racing off for the medals. Format, races held until a boat wins two races. It took two races for POL to win two. CAN fought hard and had a chance at a medal falling just short with a fourth overall." READ MORE

Racing
Vancouver Salish Sisters Heading to BVI Spring Regatta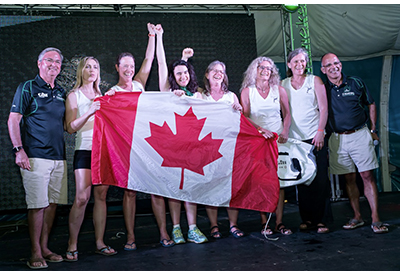 By way of background, my Caribbean regatta journey began when I twisted the rubber arms of five female sailing friends from the West Vancouver Yacht Club in British Columbia and convinced them that we should race in the 2017 Heineken Regatta. We dubbed ourselves the 'Salish Sisters' and, complete with branded t-shirts and war banner, chartered a 45' boat from Sunsail. We raced in the Bareboat 2 division placing first in the Gill Cup and 7th of 18 in the division. READ MORE

News
Sail Canada WestJet Biz Portal

Sail Canada is pleased to add a benefit to its members, friends and supporters through Sail Canada's WestJet Biz online portal, enabling the entire Canadian sailing community to earn rewards faster and enjoy discounts on their next flight reservations. Once the Sail Canada community reaches $10,000 in flight bookings through the portal, all members of Sail Canada's WestJet Biz portal will be able to take advantage of direct discounts by booking flights. The more the Canadian sailing community uses it, the sooner and better the discount will be! READ MORE
Cliquez ici pour le français
News
Sail Canada Basic Cruising Instructor Information Session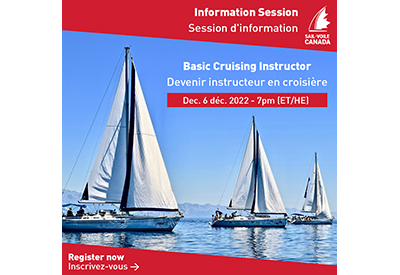 Have you always wanted to take your passion for sailing to the next level? Become a Cruising Instructor with Sail Canada and you will do just that! We will provide you with all the training you need to begin a rewarding career as a sailing coach. Keep your skills sharp and share your love of sailing with others! Want to learn more? Join us for a FREE info-session on Dec. 6 at 7pm (Eastern Time). Register now! READ MORE
Cliquez ici pour le français
People
A Sailor's Obsession During the Endless Winter Months - Part 1

Like most CY readers, I spend many winter days daydreaming about spring and summer, when we can get our boats back in the water. Even though the summer days are supposed to be longer, time seems to run much slower in the winter. One can only read so many books, watch so much TV and take so many walks. A few years ago an idea came to me while in the beautiful Thousand Islands and docked at the fabulous Clayton Classic Boat Museum in New York State. READ MORE

Speed & Smarts
Headstay Sag – Control Power with Luff Sag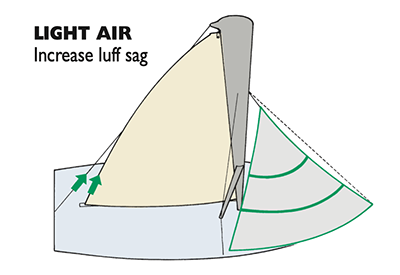 One of the most critical factors for any jib or genoa trimmer is the amount of sag in the headstay. Your forestay almost never forms a straight line between the bow and the mast – due to wind pressure it always sags aft and to leeward at least a little bit. When the headstay sags it adds fullness to the jib. Think of laying your jib out flat on the floor; then push the middle of the luff toward the leech. The wrinkle that forms in the sail is the extra fullness created by headstay sag. READ MORE

This email was sent to elissacampbell@kerrwil.com.