In this issue – Still lots going on!
• Fred Pye honoured
• The world's largest iceboat
• Canadian Masters in San Diego
• Winter racing brain food reading
• Managing windward mark roundings
• Rolex winners

Contributors this issue: Nigel Cochrane, Don Snell, Dorothy at Nautical Mind bookstore, Deb Whitehorse, iceboat.org, Dave Dellenbaugh, Katherine Stone, Sail Canada

TELL YOUR CREW and EVERYONE ELSE who cares about Canadian sailing! We are new on the scene, your friends may not know about Sailing in Canada yet. Sailing in Canada is the only publication that exclusively covers the national sailing community. Share this link so they can subscribe to SinC for free: https://kerrwil.dragonforms.com/loading.do?omedasite=SC_digest


Head here for the 2022 Calendar
Head to the Classifieds page for boats, gear and now JOBS is here

Send us your dates, feedback, class and club news, stories here: sailingincanada@kerrwil.com

Here is what the Sail GP Canada team says about Sailing in Canada.

"As a newcomer to the sailing scene in Canada that is trying to build a following across the country, we really value 'Sailing in Canada'. Not only is it the only publication that is focused on our sport, but the team takes the time to seek out content and has professional editorial."
--- Jennifer Hall I Head of Marketing & Media

Projects
Dunnville ON's David Janzen is Building Biggest Iceboat in the World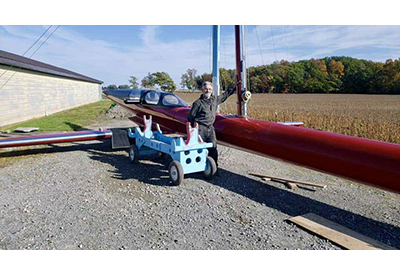 Iceboating has attracted dreamers and creators since some guy in Holland first thought about attaching iron skates to a canal boat back in the 1600s. This past summer, David Janzen of Dunnville, Ontario, achieved his dream of building the biggest iceboat in the world. An iceboat that big needs big ice, and in the winter of 2023, Janzen plans on trailering it to Thunder Bay, ON to learn how she sails. "This isn't just low budget; this is NO budget." READ MORE

News
Nigel Cochrane Reports from San Diego International Masters – Canadians Perform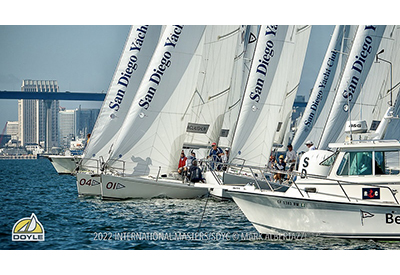 Three Canadian teams led by Nigel Cochrane from Vancouver, Bill Abbot from Sarnia and Terry McLaughlin from Toronto participated in the International Masters Regatta hosted by the San Diego Yacht Club last week. The regatta was extremely hard fought right to the end; best showing was McLaughlin's second place. Below is Nigel Cochrane's report: If you ever get invited to the SDYC International Masters…Go! Just say yes and go right away as you never know who is going to turn sixty the year following and you may never get invited again. READ MORE

One-Design
Osoyoos Regatta 2022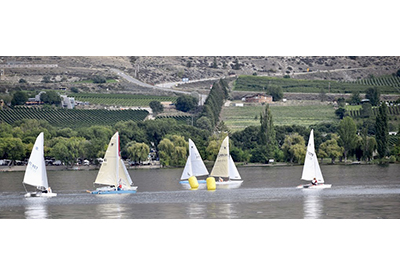 After a two year break the Osoyoos club re-introduced their late summer Seaspray regatta. The weather was near perfect with a variety of wind conditions and 13 races overall. I trusted that my boat and trailer would stand the test of travel and sailing as I had packed the bare minimum of spare parts and slightly underinflated tires (corrected later) for the trip out and back there were no problems or mishaps. The Osoyoos club were great hosts as usual. READ MORE

News
Antonia and Georgia Lewin-LaFrance Named Rolex Sailors of the Year

Last week Antonia and Georgia Lewin-LaFrance from Chester, NS were named Sail Canada's Rolex Sailors of the Year for 2021-2022 during Canada's Celebration of Sailing event held by Sail Canada and the Royal Nova Scotia Yacht Squadron. Antonia and Georgia Lewin-LaFrance, representing the Chester Yacht Club and the Royal Nova Scotia Yacht Squadron, won the Rolex Award for the very first time. This award has been given out annually since 1986 to individual(s) who have provided global recognition to Canadian sailing and Sail Canada. READ MORE
Cliquez ici pour le français
News
Canada SailGP Team Founder Fred Pye Receives Sail Canada President's Award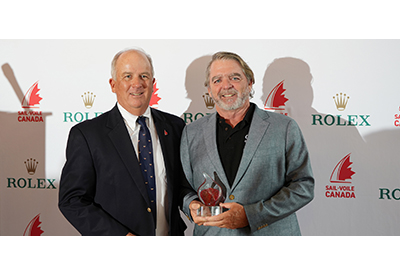 Sail Canada has announced that Canada SailGP Team founder Fred Pye has been selected as winner of this year's Sail Canada President's Award. The Sail Canada President's Award is a discretionary award, established in 2011, that recognizes individuals or groups who have made outstanding contributions to the sport of sailing and who have brought recognition to Canadian sailing and Sail Canada. In 2022, Fred Pye founded the Canada SailGP Team - Canada's first fully professional foiling sailing team. READ MORE
Cliquez ici pour le français
Speed & Smarts
Tips for the Windward Mark

Except for the starting line, the windward mark is usually the most congested part of the course. It's the first point in the race where all the boats come together again, and for this reason it presents many potential pitfalls. Fouling another boat, hitting the mark, over-standing, under-standing, making strategic and tactical mistakes – there are many ways to lose distance and time, or to take advantage of other boats' errors. The key is managing the amount of risk you take. READ MORE

The Big Picture
CY Magazine Boats
Performance Daysailer – J/9

Although the J/9 is not a sport boat, it is designed like any other J/Boat for sailing first and foremost. After all, they have won over 20 awards for their sailboat designs featuring a second-generation family-run business since 1988. How lucky was I to discover that there was a J/9 (with hull 9) in Canada. Not only in Canada, but right in my own sailing grounds AND at my yacht club, and owned by an old friend, Boyd Taylor and his wife Jan. Boyd hails from Newfoundland, but now makes Toronto his base. READ MORE

News
Tokyo 2020 Canadian Olympian Evan DePaul Announces his Retirement from Competitive Sailing

Canadian sailor Evan DePaul from Burlington, ON, who represented Canada in the 49er event at the Tokyo 2020 Olympic Games, announced his retirement from competitive sailing. Evan DePaul started sailing in 2010 at the Royal Hamilton Yacht Club, where he joined the racing team in the double-handed 420 class. In 2015, he teamed up with Will Jones in 49erFX as both were part of the same club and looking for sailing partners. One year later, the team switched to the 49er class and was crowned champion in 2017. READ MORE
Cliquez ici pour le français
Homework
Winter Race Reading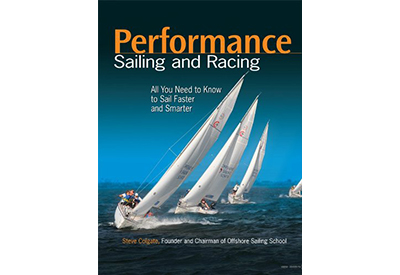 Now that the boat is away, and you've read Sailing in Canada's lates issue, it's time to head to the bookshelf and get primed for next season's battles. Here are some titles from the Nautical Mind Bookstore on Toronto's waterfront to keep the juices flowing. Performance Sailing and Racing, by Colgate, Steve, CAD $31.95. In his latest publication, Colgate explains how to improve your sailing and push your boat to higher–but safer–speeds, whether you race or cruise. READ MORE

News
Sail Canada Announces Latest Award Winners for 2020 and 2021, Including Volunteers of the Year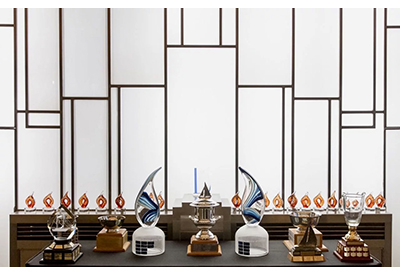 Sail Canada is pleased to announce the winners of its 2020 and 2021 Volunteers of the Year, City of Kingston Regatta of the Year and Recreation Event Awards, as well as William Abbott Senior Trophy. Roby Douglas from Halifax, N.S., and Paul Ulibarri from Victoria, B.C., have respectively been named Sail Canada 2020 and 2021 Volunteers of the Year; the 2020 Fall Regatta from the Royal Canadian Yacht Club has been selected Sail Canada Recreation Event of the Year for 2020. READ MORE
Cliquez ici pour le français
This email was sent to elissacampbell@kerrwil.com.